Web Development Classes for Kids Online
Web development is the art of creating and building websites that are accessible on the internet that your child must have. Using HTML, JavaScript, and CSS concepts, learn web development in 1:1 Web Development classes for kids in grades 5 to 8 from top computer science teachers by enrolling in this course now.
2 Modules, 24 Lessons, 20+Projects, and Quizzes
(325 ratings)
1654 students
Starts from $20 per Class
Web Development Course for Grades 5 and 6
Online web development course for kids designed for learners studying between grades 5 and 6. If your kid is aged between 9 and 11 years this is the perfect course for your child to learn about web development, the role of a web developer, and get introduced to coding with programming languages like JavaScript. So enroll your child today for this course and help him learn from the best educators.
Web Development Course for Grades 7 and 8
Online web development course for kids designed for learners studying between grades 7 and 8. If your kid is aged between 12 and 14 years and shows interest in coding, then this is a great course for your kid. This course will help your child in learning about the different tools used by web developers and the basics of web development. So, sign up now to learn from the best and most experienced teachers.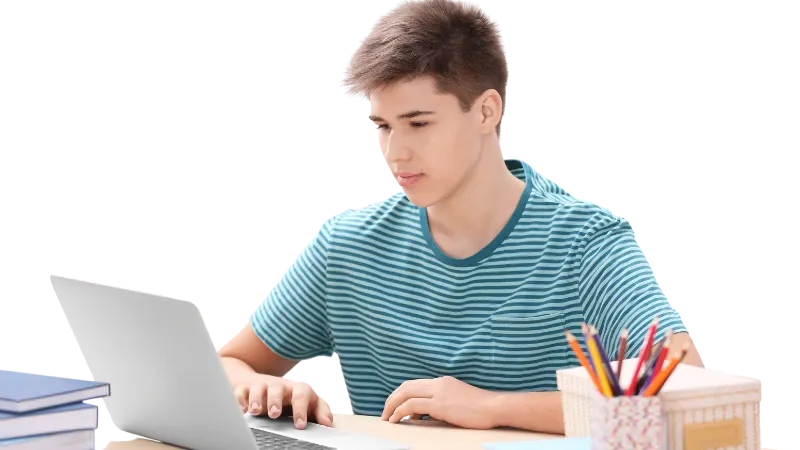 This course includes
Lifetime access to wiingy studio
What you'll learn
Learn about the technologies used for developing websites, including HTML and CSS color models.
Understand and master basic web programming languages used in web development, such as JavaScript and Python and know their role in developing websites.
Learn about the different tools used by web developers, such as BootStrap, GitHub, etc.
Learn to design projects in web development from beginner level to master level and showcase them on YouTube.
Master skills, such as communication, presentation, and persuasion, for showcasing your projects on various platforms.
Enhance your critical thinking, analytical skills, logical thinking, and problem solving skills.
Understand how to apply your knowledge of developing websites and other skills to real-life situations.
Course Description
Web development is the process of creating and designing websites that are accessible on the World Wide Web (WWW). It's all about bringing ideas to life and creating a website that has a great design, is user-friendly, and works smoothly.
It is a fun and challenging field that blends creativity and technical skills. Whether you're looking to create a personal blog, an e-commerce store, or a business website, web development is the answer for everything today.
This 24-class online course is delivered 1:1 by our top computer programming instructors. The course is split into 2 modules, of 12 classes each. Each class is for 60 minutes. We recommend a frequency of 2 classes per week to get the maximum output from the course.
Our course includes 20+ engaging projects, in-class quizzes (1 for each class), and post-class assignments. Moreover, you get unlimited access to Wiingy's proprietary coding platform Wiingy Studio
In this class, students will learn about tools used by web developers, such as BootStrap, GitHub, etc. to create a web page and their own websites in creative ways.
This course will also make your kid in mastering the fundamental coding concepts required for front end and back end development of websites such as HTML, CSS, Java, Python, PHP, Node.js, and JavaScript.
By the end of the course, the students will be able to develop different types of user-friendly websites such as e-commerce, business, and blogging from beginner level to master level.
In this course, students will also focus on and learn about the major soft skills, including critical thinking, logical thinking, how to improve problem solving skills, and creativity which will help them in presenting their websites to the outside world.
This course for web development is specifically designed for kids of age 9 to 13 years studying in grades 5 to 8. No prior knowledge is required. It would be beneficial for the kids as kids learn such a popular aspect of coding from an early age and are clear with all the basics of it.
Wiingy has a team of experienced, qualified, and verified teachers who deliver these online classes. Our educators are onboarded through a rigorous onboarding process involving coding assessments and background checks. Apart from this, students and parents have consistently rated our teaching experience as 4.8/5 and above.
One of the best things about this course is that it is designed by experts who have created multiple user-friendly websites, have great knowledge, and have 10+ experience in the field of web development. Apart from this, parents can monitor the progress of their kids through our parent app. The parent app will give you all the performance insights about your child such as quiz scores, projects created, assignment completion rate, and classes delivered.
Our finest computer science teachers will teach kids this course and evaluate every student separately and change the teaching approach as necessary. They will keep the entire teaching session fun and informative for the kids.
This course helps children start learning about the exciting world of computer science. Don't miss out! Enroll your child today and let them be taught by excellent computer science teachers.
Looking for more coding courses? Explore all our coding classes for kids
Get affordable private lessons with Wiingy
starting at $28/hr
Book your free trial lesson (no credit card required)
Zero cost trial
Book a guilt-free trial lesson in less than 30 seconds. No credit card required
No subscriptions
Sign up with as few or as many lessons as you want. No commitment needed.
Transparent refunds
Get a refund within the first 10 days if you are not happy with your tutor. No questions asked
Frequently asked questions
Web development is the process of creating and maintaining websites. It involves designing, coding, and building a website's structure, layout, and content, making it accessible and usable for people through the internet. The goal of web development is to build websites that are user-friendly, visually appealing, and easy to navigate, while also ensuring that the website functions properly and efficiently.
What is the use of Web Development?
Web development is used to build websites that make it easier for people to access and use information, connect with others, and carry out a variety of activities online. The primary purpose of developing websites is to make the internet a more accessible and useful tool for individuals, businesses, organizations, and society as a whole. Using web development, many websites can be created for a variety of purposes, such as e-commerce, sharing information, businesses, and social networking.
Why should kids learn Web development?
Learning web development can be beneficial for kids in several ways such as it helps to develop problem solving skills, career opportunities, and creativity. It can be a fun and valuable experience for kids that can help them develop a variety of skills and open up new opportunities. With web development, kids learn HTML, PHP, JavaScript, etc.
Is Web Development useful in the future?
Yes, web development will continue to be useful and relevant in the future. The internet and websites are becoming increasingly important in our daily lives and are only expected to grow in their importance in the future. As technology continues to advance, the demand for skilled web developers who can build and maintain websites will also increase.
Which online Web Development course is best for kids?
Web development is a very popular field nowadays, so there are tons of web development courses available on the internet that you may use to start learning how to create websites. Although, we suggest you to sign up for "Web Development Classes for Kids" offered by Wiingy because this course is beginner-friendly. The Wiingy web development course for kids will consist of 24 online classes. This ensures that your child has the focus and self-discipline needed to learn how to code.
What is the duration of the "Web Development Classes for Kids" course?
The total duration to complete the "Web Development Classes for Kids" course offered by Wiingy is 12 weeks with 24 classes. Wiingy conducts two classes per week. Our course for web development can usually be finished by students in 10 to 14 weeks.
What will be the outcome of doing this course for my 10-year-old?
Your child will learn one of the most popular and in-demand coding concepts by enrolling in the "Web Development Classes for Kids" course. It's a great way to introduce your child to a journey of using websites to building them and create a bright future for him.
Who is the Web Development coding for kids course designed for?
Our classes of developing websites for kids course is designed for kids studying between Grades 5 to Grade 8. We have 2 programs specifically designed for kids studying in grades 5 to 6 and 7 to 8 respectively.
What is taught in the Web Development Classes for kids course?
The Web Development for kids course is structured into two modules, each consisting of 12 online lessons. The first module focuses on teaching the basics tools used for developing websites, as well as the concepts of HTML, images on web pages, and an introduction to CSS. The second module delves into more advanced topics such as Javascript insertion, writing Javascript code, creating forms, and the next steps after completing the online Web Development course.
What is the difficulty level of the "Web Development Classes for Kids" course?
Our Web Development course is designed for kids in grades 5 to 8, and prior coding experience is not required. Our tutors understand that every student is different and therefore evaluate each individual to determine the best approach for their needs, adapting the teaching style as necessary.
High impact private 1 to 1 online classes